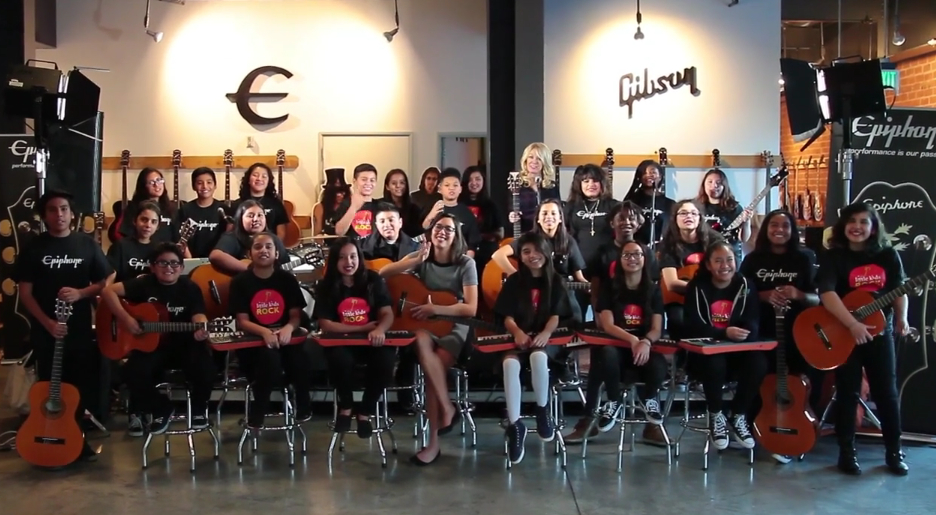 Epiphone and national nonprofit Little Kids Rock® are proud to announce that throughout 2017, they will work together in a special initiative to bring 10,000 new Epiphone guitars to public school music programs around the United States. Rock and Roll Hall of Fame inductee Nancy Wilson of Heart will lend her support as an official artist ambassador.
"I'm so proud to support the work that Epiphone and Little Kids Rock are doing to ensure our children have access to the music education they deserve," said Wilson. "This year alone they will provide over 10,000 guitars to support music education in public schools across the country."
For over a century, Epiphone has been dedicated to making professional, affordable string instruments like the PRO-1—the critically acclaimed collection of acoustic and electric guitars designed to be easy to play and encourage musicians from an early age. Little Kids Rock is a non-profit dedicated to ensuring that all public school children have the opportunity to unlock their inner music makers.
"Epiphone has been a longtime fan of Little Kids Rock," said Epiphone President Jim Rosenberg. "We couldn't think of a better day than Valentine's Day to announce that Nancy Wilson of Heart will help us make 2017 an incredible year for music programs throughout America."
Nancy Wilson helped kick off the historic initiative earlier this year by inviting the Modern Band students from the Equitas Academy Middle School in Los Angeles for a tour of the Epiphone/Gibson Showroom in Beverly Hills. After being treated to a student performance of "Magic Man" and "Alone," Wilson spoke to the students about her career, offered music tips, and then surprised them with a donation of brand new Epiphone guitars for their school. Epiphone's critically acclaimed PRO-1 Classic acoustic guitar will be the featured instrument of the initiative with exclusive instruments to be announced throughout the year.
"Through our relationship with Epiphone, Little Kids Rock will be empowered to serve more kids than ever before," says Little Kids Rock CEO, David Wish, who founded the nonprofit in 2002 after leaving his job as an inner-city first grade teacher. "This synergy will also enable us to provide our kids with quality instruments just like their favorite musicians use–an opportunity that they may not have otherwise had."
Since 2002, Little Kids Rock has enriched the lives of more than 500,000 public school students by empowering and equipping music teachers to launch Modern Band music programs. Modern Band music programs focus on teaching kids popular music like rock, pop and hip hop. This exciting new initiative with Epiphone will ensure that Little Kids Rock continues its goal to restore, expand, and innovate music education in public schools across the nation.
Keep visiting www.epiphone.com and Little Kids Rock for videos, news and special events throughout 2017.
http://www.epiphone.com/News/Features/News/2017/Little-Kids-Rock-Epi-Team-Up-for-Schools.aspx