---
Get your students In Tune!
Joe Bonamassa is a virtuoso blues-rock guitarist and a fine singer. He's been highly successful playing the blues, or rather "blues-rock" – a genre that has always been a key ingredient in popular music, but never truly enjoyed the attention of the mainstream. He has created this success as an independent artist beholden to no one, essentially in control of all aspects of his music and career. And lastly, his love of his craft and instrument has made him an avid, and noted, collector of guitars and amplifiers, turning his homes and studios into musical instrument museums. This month's In Tune cover story covers it all.
Also in this month's In Tune:
Music News: Big Chiefs of Rival Mardi Gras Tribes Come Together Again, Free Online Lessons with a Twist, The Quarantined Quartet, and more!...
Players: Luke Holland
The Write Stuff: Writing for Choir
Icon: Claude Debussy
Influences: H.E.R to Chaka Khan
Careers: Mike Ramsey, Director of Artist and Career Services at Musicians Institute
Learning New Songs: How to play Donna Summer's "On The Radio"
Classic Album Covers: Stevie Wonder's Innervisions
Joe Bonamassa and Roy Weisman devised a business model that has survived and thrived during one of the music industry's most uncertain eras.

Taking Time to Teach with Paul Reed Smith

Learn how to play Donna Summer's "On The Radio"
Activity plans for this month's features
Techniques: All About Riffs
When talking about "songcraft," it's easy to get deep into the details of melody, harmony and lyrics, but you should never underestimate the power of a great riff!
Joe Bonamassa: No Ordinary Joe
With more number one blues albums than anyone else and building on his 28-year partnership with his manager Roy Weisman, singer-songwriter/guitarist Joe Bonamassa has created his own record label, management, marketing, and concert promotion company over a decade ago.
Taking Time to Teach: Business owners and senior executives are busy people, and many are hard pressed to do anything else but run their companies. Paul Reed Smith leads a big business and teaches too. Click here for access to Paul's Masterclass.
---
---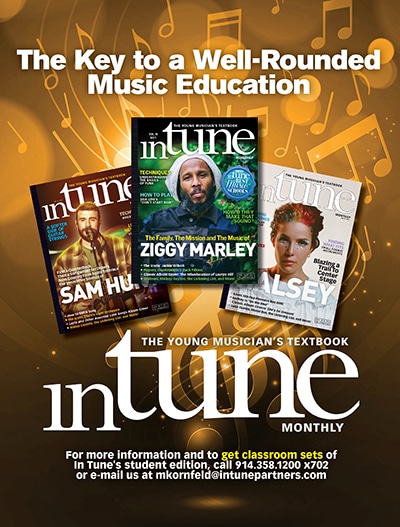 ---
---

Mariposa

Peach Tree Rascals

3:30

The It Girl [Explicit]

Raye Zaragoza

2:42

We Used To

Donovan Woods

2:51

Miss a Thing

Kylie Minogue

3:56

Control

Zoe Wees

3:51

FIND ME.

Xavier Omär

4:26

The World: Alone

Sam Williams

3:47

Pere

Edward Simon

6:46

No Bailes Sola

Danna Paola & Sebastián Yatra

3:01

Flute Sonata, Op. 94: III. Andante

Brandon Patrick George and Jacob Greenberg

3:50
---
Head & Heart (feat. MNEK)

Joel Corry

2:46

Jerusalema (feat. Burna Boy & Nomcebo Zikode) [Remix] [Radio Edit]

Master KG

3:54

Really Love (feat. Craig David & Digital Farm Animals)

KSI

2:58

Forever After All

Luke Combs

3:53

Sweet Melody

Little Mix

3:34

I Hope

Gabby Barrett

3:29

Take You Dancing

Jason Derulo

3:10

Levitating (feat. DaBaby)

Dua Lipa

3:23

Don't Leave Me Now

Lost Frequencies & Mathieu Koss

3:15

Watermelon Sugar

Harry Styles

2:54

Blinding Lights

The Weeknd

3:22

Put Your Records On

Ritt Momney

3:31

More Than My Hometown

Morgan Wallen

3:37

Train Wreck

James Arthur

3:29

ily (i love you baby) [feat. Emilee]

Surf Mesa

2:57