---
Get your students In Tune!
HALESTORM and the story of a girl, her guitars and a family band that keeps on rockin'. Hailing from Red Lion, PA, Lzzy Hale and her brother Arejay performed their first show as Halestorm back on August 9th, 1997, and 24 years later are still touring, still recording and still scoring top positions on the charts with their hard driving brand of "alt-metal." There aren't many (any?) brother/sister bands doing that today, much less doing it successfully for that long! Check out this month's In Tune cover story to learn more.
Also in this month's In Tune:
Music News: Eurovision Comes to the US, George Clinton Wins Lawsuit, The Future of Music Tech, The First Les Paul Guitar Up for Auction, Alt-Girl Rap, and more...
Players: Larry Goldings
The Write Stuff: Viva Voce
Icon: The Bee Gees
Influences: Mitski to Enya
Careers: Tim Sharp, Artistic and Executive Director of the Tulsa Chorale
Learning New Songs: How to play "Sunday Best" by The Weeknd and Ariana Grande
Classic Album Covers: Kentucky Blue Girl by Emmy Lou Harris
Learn to play "Save Your Tears" by The Weeknd feat. Ariana Grande

HALESTORM frontwoman Lzzy Hale lights up the stage with her music and her smile

The Allman Brothers know how to improvise on the ivory keys

EmmyLou Harris' classic album, Blue Kentucky Girl
Activity plans for this month's features
Lzzy Hale and HALESTORM
Lzzy Hale's story is anything but the typical rockstar tale.
Best Music Schools 2022 The Meaning of (Music College) Life and New Programs for the New Normal
---
---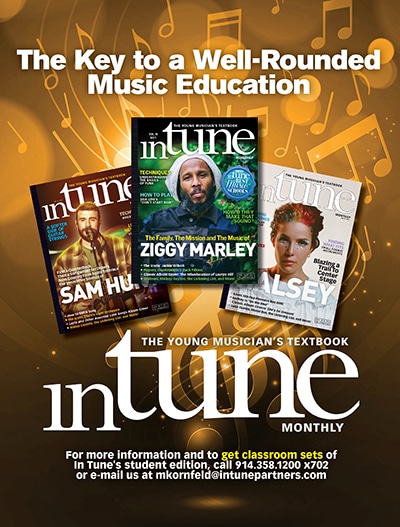 ---
---

---
Waves of Blue

Majid Jordan

3:29

Cloudy Day

Tones And I

3:05

It Could Be Worse

Andy Mineo

2:24

Tell Me I'm Pretty

Brynn Elliott

3:09

Herringbone

Topaz Jones

2:45

Fall in Love Again

Rag'n'Bone Man

2:42

Ain't That The Way

Holy Hive

2:54

Old with You

Chuck Wicks

3:06

Ribera Del Duero

星街すいせい

4:00

Concerto in F Major, S. 234: IV. Allegro

Les Ambassadeurs - La Grande Écurie, Jean-François Madeuf, Pierre-Yves Madeuf, Stefano Rossi, Alexis Kossenko, Amélie Michel, Olivier Bénichou

3:42