---
Get your students In Tune!
Jon Batiste is a virtuoso pianist, bandleader, composer, record producer, educator and actor. Born in New Orleans and with a masters degree from Julliard, a week nightly gig as musical director on The Late Show with Steven Colbert, he has a deep and distinguished lineage in New Orleans' musical family and entertainment credentials to beat the band. He's also one of the musical minds behidn the music of Pixar's new animated film Soul.  This month's In Tune cover story covers it all.
Also in this month's In Tune:
Music News: Announcing the GRAMMY In The Schools Fest, Live Virtual Performance Goes to China, Philly's Sigma Studios Receives Historic Status, and more!...
Players: Michael Cleary
The Write Stuff: Writers Block
Icon: Ornette Coleman
Influences: Alesso to James Brown
Careers: Linda Lesperance, Human Resources at Gibson Guitars
Learning New Songs: How to play The Strokes' "Last Nite"
Classic Album Covers: Led Zeppelin
A country songwriter with a sprinkle of Los Angeles attitude has made Kelsea Ballerini so much more than the comparisons to Carrie Underwood and Taylor Swift.

Released in November of 2001, "Last Nite" is the seventh track and the second single from The Strokes' debut album Is This It.

Gibson Guitars' Human Resources Business Partner Linda Lesperance leads her company's effort to find and train new guitar makers (called "luthiers.") In so doing, her career in music is to help others find theirs.

Live performance webcasting has become a popular option for musicians unable to play live during the pandemic.
Activity plans for this month's features
Kelsea Ballerini: Songwriter/Singer
Committed to expressing her own voice in country, Kelsea Ballerini dedicated herself to songwriting long before it brought her into the spotlight.
To Zoom and Beyond: Webcasting music performances on the internet has become not only fashionable, but a necessity as the pandemic has closed live music venues and taken artists off the road. Anyone can do it, but doing it well takes some tips, tricks and a few pieces of gear.
---
---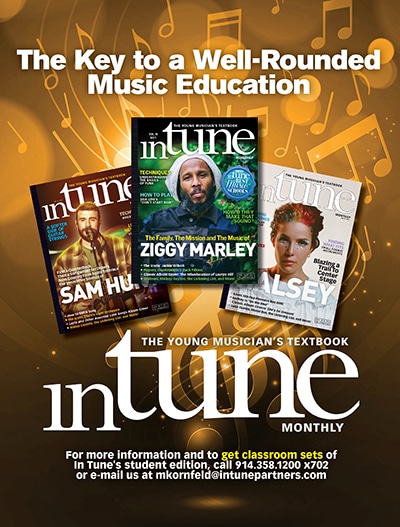 ---
---

All I Need (with Mahalia & Ty Dolla $ign)

Jacob Collier & Mahalia & Ty Dolla $ign

4:04

Lucky

Njomza

3:22

Beautiful

Jay Sean

3:44

Anseo

Denise Chaila

2:35

We Can't Stop Loving

Twan Ray

2:37

01 Amusement Park

4:17

Cool Dry Place

Katy Kirby

5:01

Shoes to Fill

Halle Kearns

3:06

Pueblo

Aquiles Navarro & Tcheser Holmes

2:02

03 Niko-Polka, Op. 228

3:04
---
Nu Wij Niet Meer Praten

Jaap Reesema & Pommelien Thijs

3:12

Fever

Dua Lipa & Angele

2:37

Head & Heart (feat. MNEK)

Joel Corry

2:46

Get Out My Head

Shane Codd

3:25

Sweet Melody

Little Mix

3:34

Anyone

Justin Bieber

3:11

I Hope

Gabby Barrett

3:29

Blinding Lights

The Weeknd

3:22

Levitating (feat. DaBaby)

Dua Lipa

3:23

SO DONE

The Kid LAROI

2:07

Bang!

AJR

2:51

Fly Away

Tones And I

2:58

No Time For Tears

Nathan Dawe x Little Mix

3:17

Afterglow

Ed Sheeran

3:06

willow

Taylor Swift

3:35