---
Get your students In Tune!
Also in this month's In Tune:
Can you imagine being given the opportunity to perform with one of the hottest pop acts in the world, and being told about it in an Instagram DM? That's what happened to singer-songwriter, and multi-instrumentalist CELISSE. One day, pretty much out of the blue, she got an Instagram message saying that there was a "high-profile TV engagement" coming up and asking if she would send over some clips of her playing various styles of music. Check out this month's In Tune cover story to learn more.
Players: Jennifer Kummer
The Write Stuff: Whither Tech Tools
Icon: Irving Berlin
Influences: Clairo to Louis Armstrong
Careers: Alon Shacham, CEO and Co-Founder of Compoze
Learning New Songs: How to play "Pompeii" by Bastille
Classic Album Covers: The Grand Illusion by Styx
Activity plans for this month's features
Celisse
Working with the Greats and Stepping Out
Hallujah, It's Christmas
Along with the canon of Christmas carols, winter-themed music played at holiday time and the seemingly inexhaustible Christmas repertoire produced by the music industry and played and replayed on radio and at retail, certain classical works herald the season like no other.
---
---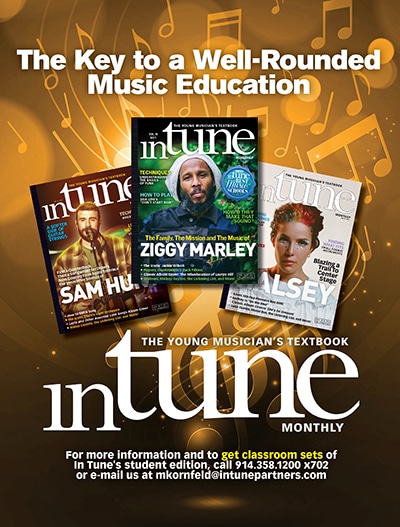 ---
---

---
Barely Reason For A Smile

NNAMDÏ & Lynyn

3:18

Endwalker

祖堅 正慶, THE PRIMALS

2:55

LA FAMA

ROSALÍA feat. The Weeknd

3:08

Neener Neener

Remy Le Boeuf

6:37

01 Somebody's Got To

3:52

Free Your Mind

ATARASHII GAKKO!

2:57

Catharine Street

Sean Della Croce

4:49

DAY & AGE

Nate Joël

3:29

Fantasia a 6 in D Minor

Attacca Quartet

3:45

One Shoe

Lilli Lewis

4:01