---
Get your students In Tune!
Also in this month's In Tune:
NATHANIEL DAVID RATELIFF is an American singer-songwriter who grew up in rural Missouri learning to play the drums at age seven. As a teenager he taught himself guitar, began writing songs and, at eighteen, moved to Denver. When asked whether he took music in high school, he said, "I actually didn't go to high school. My dad passed away when I was in the 7th grade and that was my last year of school. I was a janitor for a high school when I was 16, though, back in Missouri." Check out this month's In Tune cover story to learn more.
Players: Jeff Coffin
The Write Stuff: Building Bridges
Icon: Chet Atkins
Influences: The Marias to Errol Garner
Careers: David Stewart, Executive VP at Sweetwater
Learning New Songs: How to play "Love's In Need of Love Today" by Stevie Wonder
Classic Album Covers: Melodrama by Lorde
Activity plans for this month's features
Nathaniel Rateliff & The Night Sweats
Go to The Future and Beyond
Creative Campuses Arts boarding schools offer a personalized focus and energized environment for learning
---
---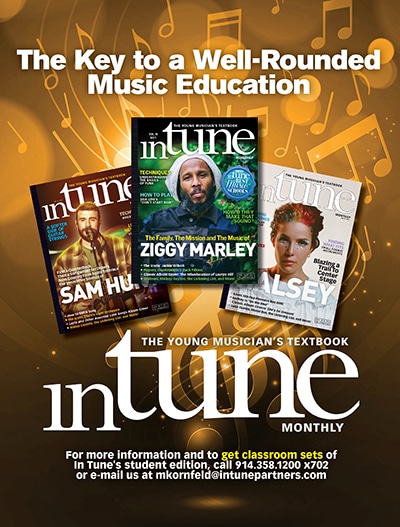 ---
---

---
Change My Clothes

Dream & Alec Benjamin

3:06

Surface Tension (Stripped)

Genevieve Stokes

3:35

Threw It All Away

Anthony Hamilton

4:05

02 Symphony No. 8 in F Major, Op. 93_ II. Allegretto scherzando

3:54

Rómpelo (feat. Lupe Fiasco)

Cimafunk

4:10

'Til You Can't

Cody Johnson

3:44

justified

Kacey Musgraves

3:01

Understand It

The Franklin Electric

3:40

Stick & Move

Christian McBride & Inside Straight

8:05

Formwela 10

Esperanza Spalding

3:29