---
Get your students In Tune!
Four days after moving to Nashville, Chris Stapleton signed his first contract with Sea Gayle Music to write and publish his music. Since then, he has written an impressive number of hits for the biggest artists in country music, and taken his solo singing career from out of the shadows and into the spotlight. 170 songs and several career-defining awards later, Stapleton has become a household name in country music. This month's In Tune cover story covers it all.
Also in this month's In Tune:
Music News: Strike Up The Band!, Selling Music Rights Becomes Big Business, Famous Beatles' Studio in New Documentary, and more!...
Players: PRS Pulse Artists
The Write Stuff: Lyrics
Icon: U2
Influences: Celeste to Nat King Cole
Careers: Mike Parkinson, Trumpet Education Specialist
Learning New Songs: How to play Elvis Costello and The Attractions' "Pump It Up"
Classic Album Covers: Reach The Beach
The best solo music transcends genre and gives musicians a creative and expressive way to discover and perform new sounds.

Chris Stapleton has written over 170 country songs throughout his career.

Elvis Costello on the SNL stage in 1989

Irish rock band U2 has played live in the world's biggest venues during some of the most successful tours of all time.
Activity plans for this month's features
Chris Stapleton on Starting Over
Artists and their fans look forward to when live music returns, and Nashville-based musician Chris Stapleton took up that theme of renewal on his latest album.
To Thine Own Self: Teach! If you're not back in school already, you will be soon. So, does that mean turning off your "distance learning device?" Of course not. However, while your classes may no longer appear on the screen, the skills you've learned while adapting to remote learning can still be of great value.
---
---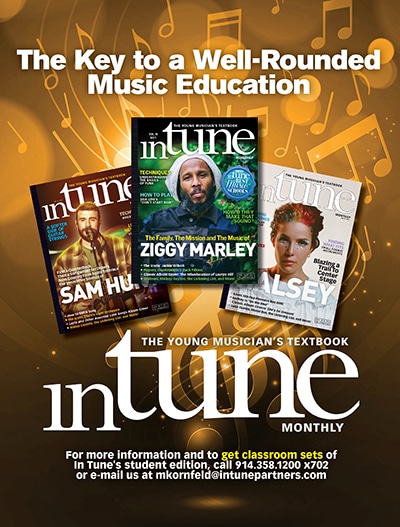 ---
---

---
Cold

Chris Stapleton

5:10

Sleepy Eyes

The Aces

3:19

Plastic Beach

Future Islands

3:40

Damage

H.E.R.

3:43

Can't Look Back

Mat Kearney

3:57

Higher (feat. iann dior)

Clean Bandit

3:24

Cuando Te Vi

Greeicy

3:10

Tough Ones

Cooper Alan

3:13

06 Struggle Gives You Strength (feat. Sean Jones)

5:58

Symphony No. 2 in C Major, Op. 61: IV. Allegro molto vivace

Czech Philharmonic Orchestra

8:17
---
Wellerman (Sea Shanty)

Nathan Evans

2:35

Heat Waves

Glass Animals

3:59

Don't Play

Anne-Marie, KSI & Digital Farm Animals

3:09

Nu Wij Niet Meer Praten

Jaap Reesema & Pommelien Thijs

3:12

Fly Away

Tones And I

2:58

Girls Like Us

Zoe Wees

3:09

Sweet Melody

Little Mix

3:34

Head Shoulders Knees & Toes (feat. Norma Jean Martine)

Ofenbach & Quarterhead

2:37

Levitating (feat. DaBaby)

Dua Lipa

3:23

Booster Seat

Spacey Jane

4:29

Dry Flower

Yuuri

4:46

Anyone

Justin Bieber

3:11

SO DONE

The Kid LAROI

2:07

Who's Laughing Now

Ava Max

3:00

Bang!

AJR

2:51